I started meal planning about three weeks ago. Last week was a little crazy-this week I'm back at it. Life is less stressful when we know whats for dinner.
Sunday- Pot Roast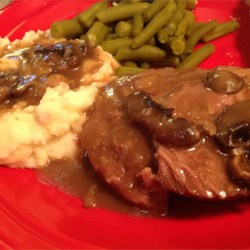 http://allrecipes.com/Recipe/Burgundy-Roast-Beef/Detail.aspx?event8=1&prop24=SR_Title&e11=beef%20roast&e8=Quick%20Search&event10=1&e7=Recipe- super easy and oh so good. We're having ours with mashed potatoes and salad.
Monday- French Dip Sandwiches- left over pot roast meat shredded, au jus made from beef broth and lipton onion soup mix
Tuesday- Oakie Tacos- This one is from my sister Megan- taco meat and all the fixings over frito chips topped with queso and sour cream.
Wednesday-Christmas Party
Thursday- Potatoe and corn chowder- this is a crock pot meal. throw chopped potaotes, corn, chicken broth, lots of spices and let it go. An hour before you serve it chopped cream cheese from a block and green chili if you like. Some yummy bread from the bakery
Friday- pork chops with apricot sauce-pan cook chops and make sauce from apricot jelly and a little apple cider vinegar, stuffing and broccoli
Saturday- Avery's concert and dinner out